ASSALAMUALAIKUM !
Annyeong chingu .
Hello my dearest readers :)
Sejak-sejak ni rajin pula I mengupdate blog kan . Ada saja yang nak dibebelkan . Tu update memanjang . Okay this is Special Entry for my lovely Song Seunghyun gun . Because today is his birthday . Yup it's his birthday :) It's 21st August maaannnn . Do remember this date okay . Heeee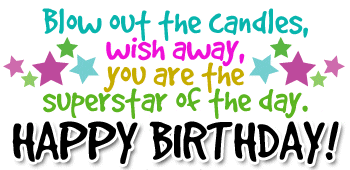 Song Seunghyun , saengil chupka hamnida ! Happy 19th Birthday dongsaeng ! Noona will always support you okay my dear treasure :) Dah makin tua dah treasure I seorang ni . Aigoo ~ Perangai pun wajiblah makin matang kan :D Jangan asyik nak mengusik your Hongki hyung tu . I akan suruh Jong Hoon oppa tengok-tengokkan you *haha berangan sudah I ni -___-" Mianhe Seunghyun , noona tak dapat nak celebrate together with you and all other members . So wish wish je cukup la kan . Nah tiup lilin ni . Blow the candle and make a wish for come to Malaysia , noona is waiting for you and all of FT Island members .
Biarkanlah I dengan dunia FT Island I ni . kekeke
Btw jangan lupa join project tweet tweet trend #songseunghyun pukul 4 petang nanti ya .
Tak tahu macam mana nak tweet ?
Till then ByeBye ♥
---
Don't Be a Silent Reader Because You Have an Identity
---